Let's talk body armor.  Being prepared when it comes to firearms and AR accessories involves understanding your needs, selecting the right equipment, practicing safe and responsible firearm usage, and being aware of legal regulations.  You already know that McLean Corp has the one and only dynamic retention patented rifle sling that you need.
A rifle sling is an essential accessory for firearm enthusiasts, law enforcement, and military personnel. A great AR15 sling should offer comfort, versatility, ease of use, and durability. It's important to consider factors such as material quality, attachment options, adjustability, and how well it supports the weight and balance of the rifle.  When it comes to the McLean rifle sling that's a check, check, check!
Body armor is designed to protect the wearer from ballistic threats, such as bullets or projectiles. When considering the best body armor, factors like protection level, comfort, weight, flexibility, and durability are key considerations. Who do we trust to provide the best armor?  Easy – Premier Body Armor is the real deal.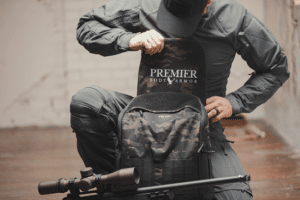 Premier body armor is second to none.
Premier Body Armor provides complete body armor systems to defend against threats including handguns, shot guns, and high-powered rifles. They are headquartered in Gastonia, North Carolina and all their products are proudly made in the USA.
Before introducing PBA in 2013, they spent 20 years engineering and manufacturing armor for tactical vehicles becoming an industry leader in innovation and the highest benchmark of quality. Their customers have included the United States Special Operations Command (USSOCOM), the United States Marine Corps (USMC), North American and International OEM's, private security industry, government agencies, and the Department of Defense.
Their armored vehicle manufacturing experience helped them develop a patented process that allowed them to form a super steel to the standardized SAPI curvature standards set forth by the U.S. Department of Defense for the production of their ceramic plates. This curvature was unheard of in steel body armor, and was also unimaginable with this type of steel.
Premier body armor was built like a tank… literally.
They are dedicated to providing the very best in personal protection to law-abiding citizens, not just our American war fighters. And it is this mission that has led them to the development of armor solutions unique for civilian applications.
Think custom fitted backpack inserts for the most popular tactical brands; armored laptop cases and school products, and their infamous discreet Executive Vest. They even make a bulletproof wallet, can cooler and laptop case.  That's some seriously cool stuff and a no-brainer gift idea.  So be safe out there!